So Dad had surgery on Friday. It went well. They took out his entire kidney and tested it for cancer. It ends up it is in fact malignant, BUT, they are VERY sure that they got all of it and it hasn't spread anywhere else. EXCELLENT! He will need to get checked every 6 months now for the next 5 years just to make sure nothing new has developed. He was released from the hospital last night. He is still incredibly sore, but is enjoying being home at least.
Yesterday was an interesting day for those of us in the pug rescue world here in the Big O. Interesting, because we helped big momma Trinity bring SEVEN puppies into this world! What an amazing experience. I mean, it was intense, and even scary at some points, but it was amazing. Thank God that it went at least relatively smoothly, and we only had to call our vet 4 times - LOL=).
Si and I are trying to be good puppy litter foster parents, but this is our first litter, so we aren't really sure what we are supposed to be doing. We keep incessantly checking on pug momma and the babies, and counting to make sure they are still all there (because what, they would disappear or something? LOL). Anyway, we had a runt in our litter yesterday, a little girl that was maybe 2/3 the size of the other pups. Well today, she fell to about 1/2 the size of the other pups, and she wouldn't nurse. We gave her some puppy milk replacer, but it apparently wasn't enough because when we took the litter into the vet tonight to be checked out, the little girl wasn't breathing at all. They tried to bring her back, but they couldn't. The vet thought it was a genetic abnormality, and there was nothing that we could have done. I sure hope that is the case, because otherwise we are horrible pug baby foster parents! Anyway, the rest of the pug babies are doing incredibly well, and are perfect!!! Here's a pic of the gang from yesterday =)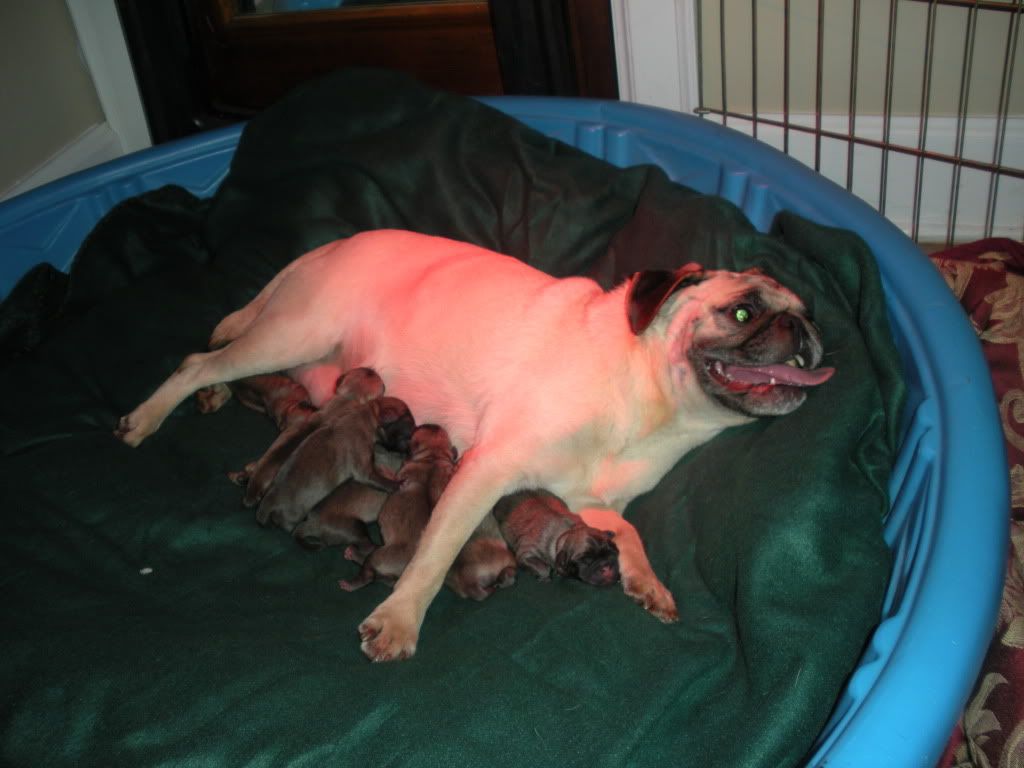 And here is a picture of mom and babies after 4 were born - she looks SO proud!!!
So moving on to our infertility journey. . . we have our "clearing" ultrasound and blood work tomorrow morning. YAY! As long as I don't have any cysts, and my estrogen level is okay, I should get the green light to start fertility medications tomorrow night! Woo hoo! Of course, also on my list is to discuss with my RE the second opinion I got from the RE in Colorado. We will see if I can hunt my RE down for 2 minutes to discuss the 2nd opinion's thoughts with her. I will have to have my big girl pants on when I go in tomorrow! Wish me luck! And of course I will post and let everyone know if we got the green light or not=).
Hope you all had a wonderful and blessed Monday!!